Wesak Weekend of Sacred Medicine Drums, Horses, & Full Moon
Celebrating Beltane and New Life Blooming
Nature is SO BUSY, birds singing new songs, hummingbirds and bees enjoying flower nectar, squirrels trying to figure out where they buried those nuts, and my fat cat trying to chase the butterflies.  Good, he needs the exercise from overeating during winter!!!  How's your Garden of Eden doing?

INVITATION TO JOIN US ~ WESAK WEEKEND
So, in all that beauty of a Merlin's Garden, I invite you all to a magical Wesak Weekend of Sacred Drum Making, Sunset Horseback Ride, and Full Moon Drum Activations with Shelley Warren and Linda Lightfoot.
Set your Intentions of the New Moon of May 4th and come drum that alive into your own personal Sacred Drum and activate all of it under the Powerful Wesak Full Moon of May 18th & 19th.  The weekend is open to those who wish to make their drum and those who already have drums.  Come join in Ceremony to connect profoundly with the multi-dimensions of Mother Earth, Nature, and Power Animals of Shamanic Arts.
Come sing, dance, and eat with a group of soulful friends.  Let's Celebrate New Life, New You, New Hue.
All the details and sign-up are here:  [maxbutton id="2″ text="SACRED DRUMS" ]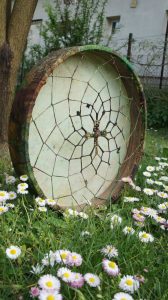 SEE YOU ALL SOON…LET'S PARTY…the MAGICAL REALMS AWAIT YOU…
MAGICAL MYSTICAL MOMENTUM with MIRACLES